On-Demand Online Seminar:
"Artificial Intelligence - what is the hype about?"
In this complimentary online seminar Sascha Heckermann, CEO of Profil, illustrates how neural networks work, what this means for clinical research and explains what is really behind the hype about artificial intelligence.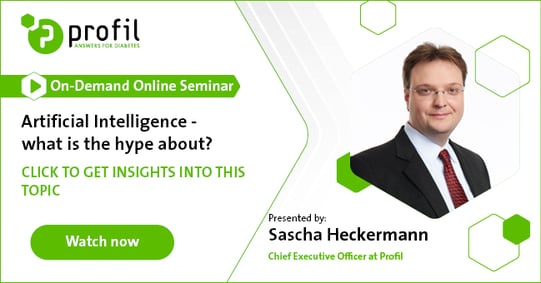 Watch this educational online seminar and benefit by:
being able to uncover unrealistic marketing promises using terms
like AI, machine learning and deep learning
being empowered to understand the process behind building
your own neural network
understanding the realistic impacts of artificial intelligence on
clinical research in the near future
Online Seminar synopsis
In recent years, you have probably heard and read about artificial intelligence (AI) wherever you have gone. Many software solution providers now promise some kind of AI feature - but what does this really mean? Has software really become intelligent? Or is this only old wine in new bottles?
In this online seminar Sascha Heckermann, Profil's CEO, will give you valuable insights about AI, machine learning and especially deep learning. He will demonstrate how neural networks work, what they can be used for and where their biggest advantages are. At the same time he will highlight the limitations and you will learn about which promises you should be skeptical.
And even though neural networks are pure mathematics, this will be done in a visual, step-by-step approach using KNIME so that everybody can understand (and even reproduce at home).
All this will be demonstrated using an example neural network that can read handwriting.
We will close by summarizing and highlighting the potential use and limitations of AI in clinical research and the medical field in general.
Meet the presenter
Looking at clinical research from an IT perspective Sascha Heckermann joined Profil more than 20 years ago. Since then, Sascha has helped transform Profil into a CRO with a deep technical focus by implementing a software development department that has created numerous tools including its own EDC system.
In addition, information security is an important topic on his agenda that has led to a successful ISO 27001 certification in 2019.


Share this online seminar with your colleagues: