On-Demand Online Seminar:
"Standardised nutrition in early phase clinical research"
Insights from Dr. Daniela Lamers, Nutritional Science Specialist at Profil: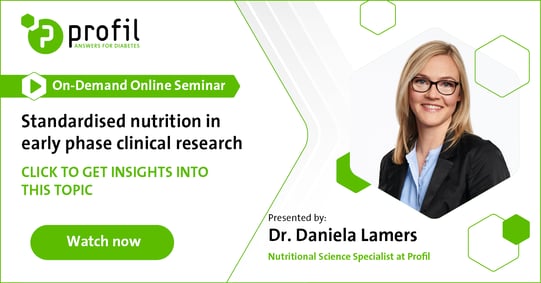 You will benefit by learning about:
Metabolic balance – Understanding the equation of energy intake and expenditure

Degrees of meal standardisation (

Predefined Meals, i

ndividually tailored energy intake, M

ixed Meal Tolerance Tests,

Ad libitum energy intake)

Impact on clinical studies - Which endpoints/outcomes to measure?

Available methods for the assessment of Energy Intake (Pros and Cons / Precision and Accuracy)
Online Seminar synopsis
Obesity and other chronic diseases which are related to excess body weight like diabetes are causing a global health hazard, demonstrating the urgent need for the development of blood glucose and weight lowering compounds. So-called lifestyle changes - comprising diet and an increase in physical activity - are still the first line approach, but the past years have seen approval of quite a few novel anti-obesity and anti-diabetic drugs with beneficial effects on body weight. The majority of these influence hypothalamic appetite pathways via dopaminergic or serotoninergic signalling or mimic endogenous satiety signals using long-lasting forms of peripheral appetite suppressing hormones.
An improved understanding of the pathways regulating energy balance, and better-designed trials give greater confidence that recently approved agents will be both efficacious and safe. Therefore, understanding the energy equation in terms of energy intake and energy expenditure is imperative for any given weight loss intervention.

Profil's metabolic ward is specialized in meeting nutritional requirements in clinical research. Our metabolic kitchen allows the investigation and control of the impact of nutritional conditions in clinical trials. To date, Profil has performed more than 80 studies with standardized nutritional regimens helping to match nutritional plans to the objectives of any trial, for example when mixed meal tolerance tests or individual diets are needed.

Metabolic balance is characterized by the equivalence of energy intake on the one hand and energy expenditure on the other hand. Energy intake is regulated by appetite, hunger, and nutrient absorption. Profil offers a huge method portfolio including visual anolog scale (VAS) appetite ratings, food diaries, ad libitum energy intake and individually tailored energy intake.

On the other side of the scale, also energy expenditure requires sophisticated methodology. Depending on the study design, total energy requirements can be determined based on resting metabolic rate, measured via indirect calorimetry or estimated with commonly used formulas using individual anthropometric measurements including body composition. In addition to resting energy expenditure, nutrient-induced thermogenesis and exercise-induced thermogenesis can be assessed via indirect calorimetry as contributing variables to total energy expenditure.
The experience and methodology at Profil's disposal, makes us experts in the area. Join this webinar to get an overview of current methodologies in energy intake assessments and learn in detail about study designs in clinical trials.
Meet the presenter
Dr. Daniela Lamers is Nutritional Science Specialist at Profil. She has an academic background in basic science with special focus on molecular biology. During her PhD thesis at the German Diabetes Center in Düsseldorf she identified novel adipocyte-secreted factors and investigated their impact on the development of insulin resistance in various cell culture models.

She joined Profil in 2012 being part of the clinical operations unit. Since 2015 she is working in the Project Development team. Her particular interests are methods for the assessment of energy metabolism, including indirect calorimetry for the measurement of resting and diet-induced energy expenditure and the doubly labelled water method for the measurement of "free-living" total energy expenditure.

Trained in EU food law she is Profil's expert to consult you on the best study design for your health claims study.
Share this online seminar with your colleagues: