Insulin steady state simulator
Different types of insulin have different characteristics when it comes to their duration of action and thus their steady state. In our insulin simulator you can see in a model approach how these different types of insulin behave in building up and maintain steady state, missing or doubling a dose and how variability interferes with the planned insulin level.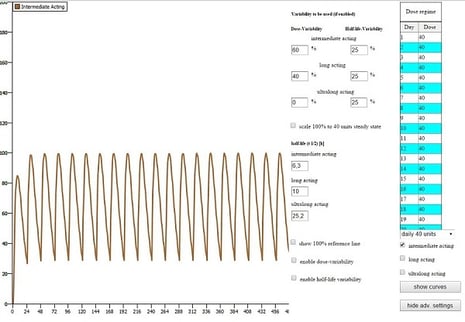 You can choose from several presets or enter your own dose regime and evaluate this for intermediate, long or ultralong acting insulin. You can modify many settings (e.g. variability) by clicking on the "show adv. settings" button.
Otherwise, simply chose the dose regime and the insulin you want to see and hit "show curves".
To get access to the tool, simply fill out the short form on the right (we will send you a double opt-in mail afterwards. Please click if you wish to receive information from us in the future).