On-Demand Online Seminar:
"
IMP management services for multi and single-center clinical trials in EU
"
This complimentary on-demand online seminar by Nadine Ullrich, Head of Manufacturing and Head of IMP, will cover all aspects of IMP manufacturing for clinical trials. Nadine will give you valuable insights into Profil's IMP manufacturing service to ensure a safe and reliable access to IMPs for our clinical trials.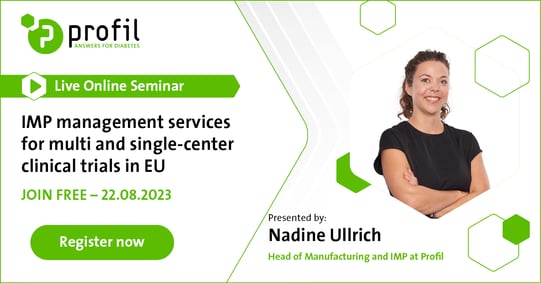 Watch this educational online seminar and benefit by:
Ensuring IMP access for the entire duration of a clinical trial

Learning to identify and avoid the pitfalls of IMP manufacturing
Online Seminar synopsis
There are many issues that clinical project managers need to address while preparing and running a clinical trial in Europe. One key issue is making sure the required IMPs are available at the clinical site in sufficient amounts at the right time.
The manufacturing, packaging and shipping of investigational medicinal products for human use in clinical trials may appear to be a straightforward exercise. In this online seminar you will hear about the pitfalls of IMP import and supply for clinical trials in the EU. You will learn how to avoid those pitfalls and what to pay attention to when planning and conducting a clinical trial in the EU.
After learning about these processes in this online seminar, our expert for GMP and IMP Management will highlight, why Profil is your partner of choice for sourcing, manufacturing and distribution of IMPs in small scales for our clients for many years with our own GMP certified manufacturing facility.
For whom:
This seminar is intended for anyone involved in the process of planning a multi and single-center clinical trial in Europe facing IMP supply questions

We invite anyone who is involved in the field of IMP and GMP to join this session
Takeaway:
You will understand how to ensure IMP access during a clinical trial.
Meet the presenter
Nadine Ullrich has an academic background as a pharmacist at the University Düsseldorf. She joined Profil in 2017 as a study pharmacist and managed and supported IMP handling in over 70 trials. Since 2022 she took over the responsibility as Head of Manufacturing and Head of IMP and has been responsible for all IMP related manufacturing processes and general IMP related study inquiries.
Share this online seminar with your colleagues: