On-Demand Online Seminar:
"Profil - the leading CRO for metabolic research"
In this complimentary on-demand online seminar Dr. Lars Bochmann, Executive Director Commercial Operations, tells you all about Profil. Lars will give you valuable insights into our work, present what makes us special and tell you why we should conduct the next clinical trial on diabetes, obesity or NAFLD for you.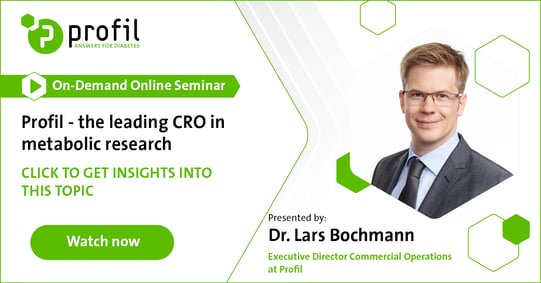 Watch this educational online seminar and benefit by:
Getting an overview of what makes Profil the partner of choice for early
phase clinical trials

Learning about Profil's particular strengths in conducting early phase clinical trials in metabolic research

Understanding the vast methodology portfolio that Profil offers to answer the questions you need answered
Online Seminar synopsis
Profil is the world's leading CRO in clinical metabolic research. As a full-service provider, we offer all services from designing the study to writing up the results.
We are the experts for early phase clinical trials within the indications of diabetes, obesity, NAFLD/NASH, and related complications. Our specialization and scientific excellence allows us to design and carry out best-in-class clinical trials for our clients.
Within our vast and sophisticated methodology portfolio, one of our core technologies is the hyperinsulinemic euglycemic clamp. To be able to offer the best services for any glucose clamping setup, we have developed ClampArt®, the next generation of glucose clamping.
We can recruit even the most complex clinical trials as Profil owns a continuously updated database with entries of more than 27.000 well characterized individuals (healthy, healthy at-risk, type 1 and type 2 diabetes) who are waiting to volunteer in our trials. In this online seminar we will highlight all the services that we offer and that make us the leading provider of clinical trials in our field.
Watch this online seminar if you are planning clinical trials in the near future in order to learn why Profil is your partner of choice.
Meet the presenter
Dr. Lars Bochmann has an academic background in molecular medicine at the Wake Forest Institute for Regenerative Medicine in Winston-Salem (USA) and the European Molecular Biology Laboratory in Monterotondo (Italy). He joined Profil in 2015 as Director of Marketing & Business Development. Since then he has been responsible for Profil's business development and general study inquiries and is a member of the executive management of Profil in his current role. He is also your contact partner for study subject recruitment, Conferences and Events.
Share this online seminar with your colleagues: