Live Online Seminar on August 3rd, 2021:
"Once-weekly insulins"
Insights from Prof. Dr. Hans De Vries, Medical Director at Profil: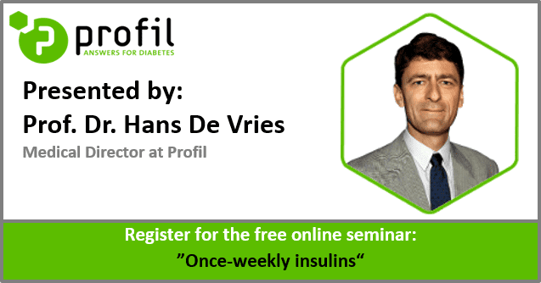 The live online seminar will take place on August 3rd, 2021 at 4 PM CEST.
You will benefit by learning about:
Diabetes therapy and insulin development
Current status of once-weekly insulins
Online Seminar synopsis
One hundred years after the first commercialization of insulin, once-weekly insulins represent the latest development in this field. Advanced prolongation mechanisms have been developed to enable once-weekly dosing. This presentation will highlight the available pharmacokinetic, pharmacodynamic and clinical data on once-weekly insulins.
Who should attend this online seminar
This online seminar is aimed at all interested in insulin development and diabetes therapy.
Takeaway
After the session you will be up-to-date on the current status of once-weekly insulins
Meet the presenter
Hans is an international key opinion leader in diabetes. He works as medical director at Profil since 2017. One day per week he holds his position as professor of diabetes medicine at the Unitersity of Amsterdam, the Netherlands, to see his patients and continue some of his academic research.
Share this online seminar with your colleagues: