Free On-demand Online Seminar: "Digitalization in Diabetes"
Insights from Professor Lutz Heinemann, renowned thought leader in diabetes technology and founder of Profil.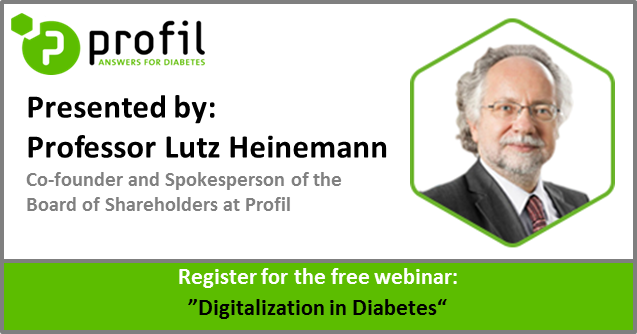 You will benefit by learning about:
Advances in the field of digitalization of diabetes treatment

The impact of digitalization on customer behaviour

A look into the future of diabetes treatment and drug as well as medical device development
Online Seminar synopsis
The world is experiencing one of the most profound changes in human history. Over the last 15 years, technology has become ubiquitous and it has changed every aspect of our lives. Smartphones can be found everywhere and being connected has become normal. Telecommunication technology has changed our lives in ways noone could have imagined just a few years ago. More and more these changes are also affecting regulated fields like health care.
Many argue that what we have seen in the past decade has only been the beginning and that the real digital revolution is yet to come. Watch this online seminar to learn from one of the world's prominent scientists in the field of diabetes technology what impact this digital revolution will have on the treatment of diabetes. Be prepared for the changes to come and get empowered to adjust your product development plans as well as portfolio strategies accordingly.
Meet the presenter
Professor Lutz Heinemann
Lutz Heinemann received his degree in Process Engineering in 1976, after which he studied biology at the University of Düsseldorf, until 1982. After three years as Assistant Professor in the Neurophysiology Department at Düsseldorf University, Professor Heinemann transitioned to the field of Internal Medicine. In 1999, Professor Heinemann co-founded Profil where he was CEO until 2009. He is also a member of the German Diabetes Association (DDG), the European Association for the Study of Diabetes (EASD) and the American Diabetes Association (ADA). Prof. Heinemann has been the Managing Editor of the Journal of Diabetes Science and Technology. His scientific research is focused on insulin pharmacology and diabetes technology. Between 2010 and 2015, he acted as coordinator for the EU-funded project AP@home. Today Lutz is the Spokesperson of the Board of Shareholders at Profil and enjoys global reputation as a key opinion leader in diabetes technology.
Share this online seminar with your colleagues: