Free On-Demand Online Seminar: "First in human trials: Scientific Considerations"
Insights from two of Profil's experts on early phase clinical trials and clinical pharmacology
Join this online seminar to learn about the design, conduct and analysis of first into human trials.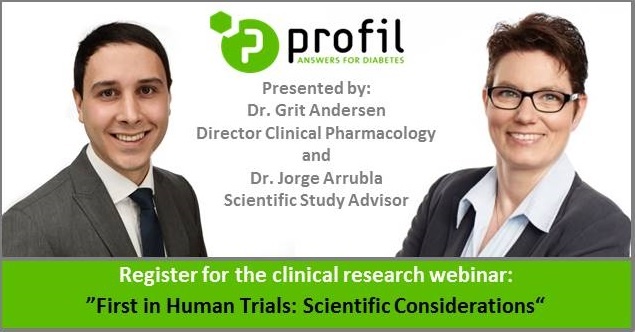 You will benefit by learning about:
How to design first in human trials

The new guideline on risk mitigation for clinical trials

Aspects of first in human trials to consider around the world

Profil expertise in the area of first in human trials
Online Seminar synopsis
Providing clinical safety is a challenge in first in human trials. The success of the development of a novel drug highly depends on the early stages of the clinica development. Researchers are faced with numerous challenges from the moment they decide to proceed from preclinical research to the clinical development of a new drug. These include creating an appropriate study design, preparing the regulatory documents, conducting the clinical trial and, finally, drawing the right conclusions from the data.
A new guideline for risk mitigation covers considerations on quality aspects, e.g. the investigational medicinal product (IMP) used in preclinical studies should be representative of the IMP used in the later FIH/ early clinical trials, non-clinical aspects, e.g. confirmation that all pivotal non-clinical safety studies are conducted in compliance with GLP and clinical testing strategies and designs, e.g. providing a plan to monitor and manage likely AEs as well as procedures and responsibilities for modifying or stopping the trial, if required.
This online seminar will deal with all these aspects and prepare you for the successful start into clinical development of your drug. As always we will take a special look at anti-diabetic drugs but also cover the topic on a general level.
Meet the presenters
Dr. Grit Andersen has worked as a physician in several medical fields such as surgery, general medicine and neurology in Germany and Costa Rica. She started working in clinical research in 1999 in an international Phase III study, worked for 12 years in early phase studies and started working at Profil in 2013. She is a board certified medical specialist in clinical pharmacology and as Director Clinical Pharmacology she runs the specialisation program in clinical pharmacology for medical doctors at Profil and she is one of our experts for first-in-human trials.
Dr. Jorge Arrubla finished medical school in 2010 and defended his M.D. thesis at the RWTH Aachen University. He is PhD in biomedical and pharmaceutical sciences from the University of Liège and University of Maastricht (joint degree). He has also a strong background in imaging techniques and has published a number of papers in that field. He got both scientific and clinical experience before joining Profil in 2015, where he started a career in clinical research with a special interest in medications for type 2 diabetes. He is currently participating in the specialisation program in clinical pharmacology directed by Dr. Grit Andersen.
Share this online seminar with your colleagues: