Free On-Demand Online Seminar: "Advances in Insulin Pump Therapies"
Insights from Dr Eric Zijlstra, our expert in pump therapy clinical trials. Watch now.
Join this online seminar to learn about the insights in pump therapy clinical trials.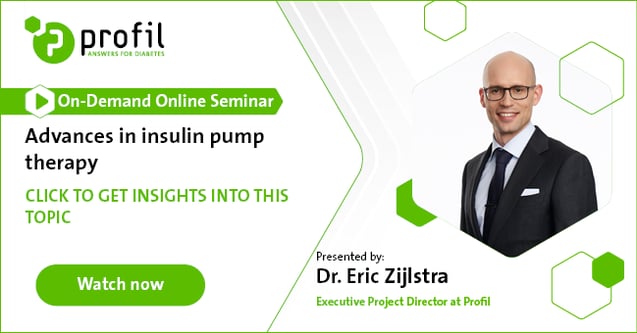 You will benefit by learning about:
The latest data on new pump insulins

Infusion set occlusions: Is insulin to blame?

The advances needed to progress insulin pump therapy to fully automated control
Online Seminar synopsis
The number of patients with diabetes using an insulin pump for their diabetes therapy has been growing rapidly in recent years. With the development of closed loop systems that incorporate insulin pump technology and with potential adaptation of the technology by patients with type 2 diabetes, the number of pump users is likely to increase even more in the next years.
This online seminar will focus on the role of insulin in pump therapy and present the most recent advances regarding speed of absorption, infusion set compatibility and application in closed loop systems. Although there are no special pump insulins, there may be subtle differences in the pharmacology between an injection or infusion of the same type of insulin. This webinar will first discuss the latest data from ultra-fast pump insulins in development and show how close we are to approaching physiological basal and prandial insulin coverage.
Insulin pump occlusions are a common problem for many patients and can have different causes including kinking of the infusion needle or local inflammatory skin reactions. Due to ambient stress such as temperature fluctuations and physical agitation, there is also a greater risk that insulin crystals or fibrils form that will obstruct flow in the pump infusion set. Some insulins may be more compatible with insulin infusion than others and the second part of the webinar will show whether compatibility issues may be expected from new-generation pump insulins.
With the recent availability of an ultra-fast pump insulin in the EU and the approval of the first hybrid closed loop system in the USA, the last part of the webinar will look into the future feasibility of fully automated closed loop control and discuss potential approaches to reach this goal.
Meet the presenters
Dr. Eric Zijlstra
With a background in Biomedical Engineering (Eindhoven University of Technology, The Netherlands), Eric Zijlstra started his career in the field of diabetes as a postgraduate researcher at the University of Birmingham (UK) in collaboration with AstraZeneca (Alderley Park, UK). Whilst at AstraZeneca Eric established stable isotope glucose tracer and indirect calorimetry methods in animal models of diabetes, and used these methods to conduct pre-clinical research on novel glucokinase activators.
In 2008 Eric joined Profil and has since worked on more than 80 clinical trials, investigating a large variety of diabetes drugs and medical devices in development. On the drug side, his main interest lies with novel insulin formulations, from faster-acting to ultra long-acting and their oral, inhaled and intradermal administrations. On the device side, blood glucose monitoring and insulin application devices are of special interest.
Eric is currently a research scientist and expert in the field of diabetes technology, alternative route administrations of insulin and glucose clamp studies. In his current role as Director Project Development / Medical Technology at Profil he leads a team of scientific consultants, oversees clinical trial design preparations and supports the dissemination of trial results at international diabetes conferences and scientific journals.
Share this online seminar with your colleagues: