Free On-Demand Online Seminar: "Pathogenesis and recent clinical developments in NASH"
Insights from renowned researcher PD Dr. Jörn M. Schattenberg and Prof. Dr. Freimut Schliess

Watch this online seminar to learn about the design, conduct and analysis of clinical studies on NASH through a review of ongoing developments and building a better understanding of the underlying molecular pathogenesis.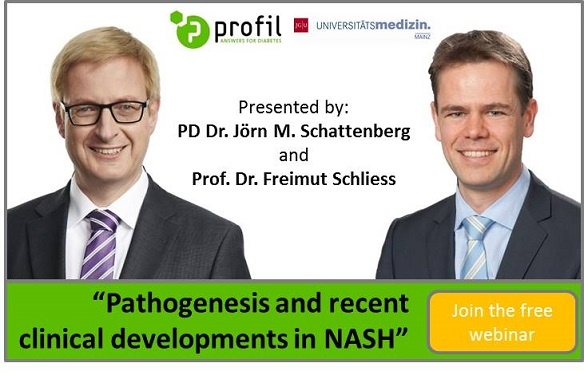 You will learn about:
The liver involvement in diabetes & cardiovascular disease

Ongoing clinical developments for the prevention and treatment of NAFLD and NASH

Considerations for planning a NASH clinical trial
---
Online Seminar Synopsis
The emergent disease non-alcoholic fatty liver disease (NAFLD) predisposes for diabetes and cardiovascular disease as well as liver cirrhosis and hepatocellular carcinoma. According to a seminal concept presented by Day & James in 1998, the evolution of non-alcoholic steatohepatitis (NASH) is characterized by two hits. The first hit is a fatty liver in the form of a potentially benign and reversible hepatocellular deposition of triglycerides. It may progress towards NASH if the second hit occurs: increased exposure of hepatocytes to reactive oxygen species and inflammatory cytokines, leading to hepatocellular death and irreversible re-modeling of the liver tissue.
Watch this online seminar to learn about current standards for diagnosis, treatment and care of patients with NAFLD/NASH as well as recently evolving treatment options and strategies for evaluating new clinical developments. Appreciating the liver's specific anatomical conditions and functions in systemic metabolism and defense you will get a perspective on the systemic interactions of the liver in the evolution of type 2 diabetes and cardiovascular disease. Benefit from the University Medical Center Mainz's and Profil's expertise in state-of-the-art medicine & maximum care as well as cutting edge research and development in liver disease, diabetes, and co-morbid conditions.
Meet the presenter
Priv. Doz. Dr. med. Jörn M. Schattenberg is a medical specialist for Gastroenterology & Hepatology at the University Clinic in Mainz, Germany. After his medical studies in New Orleans, Bern and Mainz, he conducted his postdoctoral training at the renown Albert-Einstein College in New York focusing on the pathophysiology of acute and chronic liver disease. He acts a consultant for in- and outpatients at the University Medical Center with a special focus on Hepatology and Endoscopy.
His scientific interests are related to the pathophysiology of non-alcoholic fatty liver disease (NAFLD) and non-alcoholic steatohepatitis (NASH). In this area Dr. Schattenberg is an internationally acclaimed expert, involved in national and international scientific projects and studies and, amongst other achievements, co-authored the German medical guidelines for this disease.
Prof. Dr. rer. nat. Freimut Schliess is a biochemist with longstanding scientific activities in the fields of Experimental Hepatology & Diabetology. At Profil he is the Director Science & Innovation, contributing to the development of new business opportunities related to arising paradigm shifts in the evaluation, licensing, and reimbursement of drugs and devices. Freimut provides scientific and methodological advice in the field of clinical and experimental diabetes research and promotes the implementation of developmental projects with academic and industrial partners. He has been teaching in the post graduate program of the Collaborative Research Center (SFB) 974 "Communication and systems relevance in liver inury and regeneration" at Düsseldorf Heinrich-Heine-University.
Share this online seminar with your colleagues: