Free Webinar: "Studying e
ndothelial function in clinical trials using Flow-Mediated Vasodilation

"
Insights from Dr Theresa Herbrand, our expert for FMD at Profil.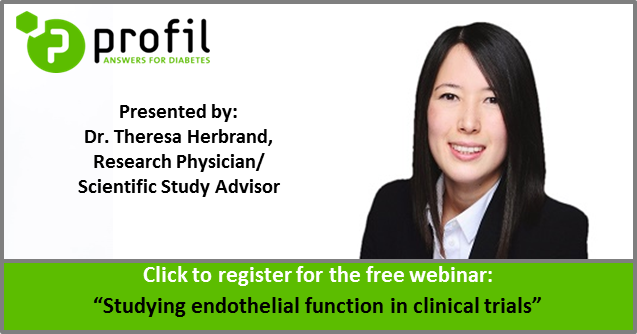 You will benefit by learning about the following topics:
Introduction to flow-mediated vasodilation
Review of scientific data
Methodological pitfalls and standards of quality control
Profil's expertise and capabilites using flow-mediated vasodilation
Secure your spot now for our live webinar on March 22, 2018,
04:00pm - 05:00pm CET (Berlin)
10:00am - 11:00am EDT (Boston)
07:00am - 08:00am PDT (San Francisco)
07:30pm - 09:30pm IST (India)
No good time slot there for you or not sure you can make it?
Register anyway and we will inform you as soon as the recording is available.
Don't forget to confirm the double opt-in mail that you receive after registration, so we can remind you of the session and send you the recorded version.
Webinar synopsis
In recent years, brachial artery flow-mediated vasodilation (FMD) as a non-invasive assessment of endothelial function has become widely popular. FMD is a powerful tool yielding important information on cardiovascular function. Despite its seemingly easy conduct, many have failed to show reliable data. At Profil, we have successfully established a protocol enabling the measurement of reliable and reproducible FMD data. This webinar will focus on (i) FMD and its value for cardiometabolic research, (ii) its methadological pitfalls and (iii) how Profil has been able to set up a state of the art FMD research facility with defined standards of quality control.
This Webinar is perfect for anyone who is involved in conducting clinical trials with a focus on endothelial function or who wants to learn more about methods assessing endothelial function.
Meet the presenter
Dr. Theresa Herbrand
Theresa gained first experiences in clinical trials while working for her MD Research Program at the Department of Cardiology at the University Hospital in Düsseldorf for which she investigated the clinical outcome of patients with severe heart failure undergoing transcatether mitral valve repair. After graduating from medical school in 2015, Theresa joined Profil as a Research Physician. Since 2016 she has joined the Project Development team under the direction of Eric Zijlstra.Share this webinar with your colleagues: